1975 was, on Earth's calendar, the 76th year of the 20th century, and the sixth year of the 1970s decade. Although this was a time period before Human formulation of stardates, this era begins with stardate 1975.0[1], with the reference stardate system beginning this era on stardate -1/75.[2]
Events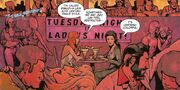 People
Births and deaths
Appendices
References and notes
Releases
January
February
March

April

May

June
Star Trek lives on in syndicated repeat airings.
July

August

September

October

November

December
Unknown month
External links