1981 was, on Earth's calendar, the 82nd year of the 20th century, and the second year of the 1980s decade. Although this was a time period before Human formulation of stardates, this era begins with stardate 1981.0 [1] or reference stardate -1/81.[2]
Events
People
Births and deaths
Appendices
References and notes
Releases
January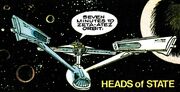 February
March
April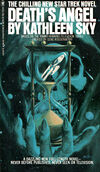 Death stalks the corridors of the Enterprise. When Captain Kirk and Mr. Spock barely survived the mission to Delta Gamma IV, the deadly planet whose beautiful blue flowers destroy the mind and ravage the soul, Chief Medical Officer McCoy felt something was dangerously wrong — just how wrong, he didn't realize. For when the Enterprise takes on the alien members of a sensitive Federation diplomatic mission, the ambassadors are murdered one by one. The angel of death is visiting the ambassadors.
May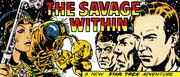 June
The Enterprise is summoned to transport a dangerous criminal from a starbase prison to a rehabilitation center: brilliant physicist Dr. Georges Mordreaux, accused of promising to send people back in time — then killing them instead. But when Mordreaux escapes, bursts onto the bridge and kills Captain Kirk, Spock must journey back in time to avert disaster — before it occurs.
July
August
September
October

November
December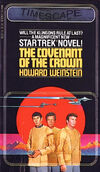 An Enterprise shuttle is forced to crash land in a violent storm on the barren planet Sigma 1212. Spock, McCoy, and Kailyn, the beautiful heir to the Shaddan throne, survive in the near disaster. Now, pursued by primitive hunters and a band of Klingon scouts, they must reach the mountain where the fabulous dynastic crown is hidden. With the help of Spock and McCoy, and her own fantastic mental powers, Kailyn must prove that she alone is the true heir to the throne. If they fail, they will open the door for Klingon takeover of the whole quadrant — and the galaxy's hope to live long and prosper will fall in the shadow of a cruel tyranny.
Unknown month
Connections