1983 was, on Earth's calendar, the 84th year of the 20th century, and the fourth year of the 1980s decade. Although this was a time period before Human formulation of stardates, this era begins with stardate 1983.0 [1] or reference stardate -1/83 [2].
America's Strategic Defense Initiative is first proposed by President Ronald Reagan.[5] [6]
The space shuttle Challenger launches on its maiden flight.[6]
Sally Ride becomes the first American woman in space.[6]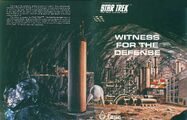 TOS FASA RPG adventures:
TOS FASA RPG supplements:
TOS FASA RPG deck plans:

There is sabotage aboard the Enterprise, and Spock's investigation leads him into defiance of the Federation and a bizarre alliance with the Romulan and Klingon Empires against the bloodthirsty Tomarii—a savage race for whom war and battle are life itself. Now Spock has been declared a traitor and condemned to the shame of the Federation's highest security prison. And now Captain James Kirk must face the toughest decision of his command, while a lifelong friendship and the destiny of the free universe hang in the balance!

The Romulans attack the planet Gateway, where Federation scientists are studying the Guardian of Forever — the mysterious portal to the past. The Enterprise must protect the Guardian — or destroy it. But Spock has already used the portal to journey to the past. On the planet Sarpeidon, 5,000 years ago, Spock knew a beautiful, primitive woman. Now he has gone to meet his son!

The ship is crippled in orbit around a dangerous, living, breathing planet, and a desperate peace mission to the Orion Arm is stalled. Kirk has never needed his crew more. But a lithe, alien woman is casting a spell of pacifism — and now mutiny — over the crew. Suddenly Captain Kirk's journey for peace has turned into a terrifying war — to retake command of his ship!
Community content is available under
CC-BY-SA
unless otherwise noted.