1986 was, on Earth's calendar, the 87th year of the 20th century, and the seventh year of the 1980s decade. Although this was a time period before Human formulation of stardates, this era begins with stardate 1986.0[1] or reference stardate -1/86[2].
Events
The space shuttle Challenger explodes shortly after liftoff, killing all seven crew members.[3][4]
When Jeffrey Carlson, who was present at the interrogation of the Ferengi that crashed in Area 51 in July 1947, gets a hold of the Klingon disruptor and the communicator that Chekov leaves behind on the USS Enterprise (CVN-65), he has his protégé, Shannon O'Donnel examine it. However, before she arrives to do so, she is stopped by Gary Seven, who tells her that mankind is not yet ready for such technology.[9]
Politics
People
Births and deaths
Notable people
other notable people 

Chesley Bonestell • Brickman • Chizum • Lady Gaga • Averell Harriman • Harry • Jason • Joe • Anastasia Komananov • Mike •

A. Bartlett Oiamatti

• Tommy Raymond • Rogerson • Hyman Rickover
Appendices
References and notes
Stories
Releases
TOS FASA RPG supplements:
January
February
March
April
May

June
July
August
September
October
November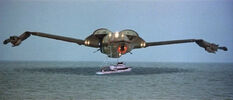 December

=External links