For other uses, see 2018.
2018 was, on Earth's calendar, the 19th year of the 21st century, and the ninth year of the 2010s decade. Although this was a time period before Human formulation of stardates, this era begins with stardate 2018.0.[1]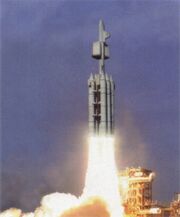 Births and deaths
Edit
Stephen Hawking dies.[8]
Harlan Ellison dies.[8]
George H. W. Bush dies.[8]
Notable people
Edit
other notable people

Hank Aaron • Buzz Aldrin • Pamela Anderson • Ann-Margret • Margaret Atwood • Drew Barrymore • Barry Bonds • Ben Bova • Kenneth Branagh • Naomi Campbell • Jimmy Carter • Charles, Prince of Wales • Jaques Chirac • Katie Christopher • Kevin Christopher • Rory Christopher • Joan Collins • Max Allan Collins • Robert Crais • Dax symbiont • Olivia de Havilland • Robert De Niro • Cameron Diaz • Athene Donald • Frank Drake • Bob Dylan • Freeman Dyson • Clint Eastwood • Elizabeth II • Shepard Fairey • Vigdís Finnbogadóttir • Heidi Fleiss • Alice Fontana • Tera Franklin • Bill Gates • Patty Hearst • Hultquist • Lady Gaga • Debbie Lauderdale • Sumi Lee • Alexey Leonov • James Lovell • Shirin Ludden • Elle Macpherson • Madonna • John Major • Lee Majors • Junior Mance • Johnny Mandel • Charles Manson • Willie Mays • Jennifer McCarthy • Paul McCartney • Larry McMurtry • Walter Mondale • Demi Moore • Elon Musk • Jocelyn O'Herlihy • Marcus O'Herlihy • Roger Penrose • Plummer • Helen Reddy • Derek Redmond • Donald Rumsfeld • Emilia Sakamoto • Claudia Schiffer • William Shatner • Simone • Will Smith • Patrick Stewart • Sharon Stone • Valentina Tereshkova • Frank J. Tipler • Andrew Wiles • Chuck Yeager • Jase Zero
Appendices
Edit
References and notes
Edit





September
Edit

External links
Edit