2019 was, on Earth's calendar, the 20th year of the 21st century, and the tenth and final year of the 2010s decade. Although this was a time period before Human formulation of stardates, this era begins with stardate 2019.0.[1]
Events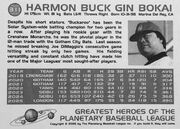 2019 was the rookie year of baseball player Buck Bokai in the

Planetary Baseball League

, for the

Crenshaw Monarchs

. He had 162 games, 616 times at bat, 118 runs, 185 hits, with 32 doubles, 2 triples, 10 stolen bases and 37 home runs. He was responsible for 111 runs batted in and had a batting average of .300.[2][3][4]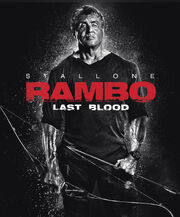 The Human generational ship Forty Families was launched from Earth. Unlike previous vessels before her, the Forty Families was the first manned interstellar vessel to be equipped with

Bussard ramjet

engines. Unfortunately, soon after the Forty Families was launched, all contact was lost with the vessel and she was declared lost.[8]
The Vulcan civilization perfects their advanced warp drive that would be used to facilitate new colonization efforts.[9]
People
Births and deaths
Notable people
Appendices
References and notes
↑ This information comes from a baseball card seen throughout Star Trek: Deep Space Nine on Ben Sisko's desk, notably in DS9 episode: "The Storyteller" and "If Wishes Were Horses".
↑ In "Past Tense, Part II", Benjamin Sisko mentioned that 2015 was Bokai's rookie year. However, the on-set prop baseball card from DS9's first season lists Bokai's rookie year in 2019, playing for Crenshaw. The logical explanation is that he played for another league previously and thus had another rookie year, unless Sisko simply did not correctly recall his trivia.
↑ At the time of the Debtors' Planet mention, there had only been three Rambo films, but the novel correctly predicted the fifth film in the series, and that it would contain graphic violence. During production, the placeholder title "Rambo V" was replaced with "Rambo: Last Blood".
Stories
Releases
January



DSC novel: The Way to the Stars by Una McCormack.

Despite being an inexperienced Starfleet cadet, Sylvia Tilly became essential to the USS Discovery finding its way back home from the mirror universe. But how did she find that courage? From where did she get that steel? Who nurtured that spark of brilliance? The Way to the Stars recounts for fans everywhere the untold story of Tilly's past. It's not easy being sixteen, especially when everyone expects great things from Tilly. It's even harder when her mother and father are Federation luminaries, not to mention pressing her to attend one of the best schools that the Federation has to offer. Tilly wants to achieve great things—even though she hasn't quite worked out how to do that or what it is she wants to do. But this year, everything will change for Tilly, as she about to embark upon the adventure of a lifetime—an adventure that will take her ever closer to the stars...
February


March

April



TNG novel: Available Light by Dayton Ward.

Section 31, the covert organization which has operated without accountability in the shadows for more than two centuries, has been exposed. Throughout the Federation, the rogue group's agents and leaders are being taken into custody as the sheer scope of its misdeeds comes to light. Now Starfleet Command must decide the consequences for numerous officers caught up in the scandal – including Admirals William Ross, Edward Jellico, Alynna Nechayev, and Captain Jean-Luc Picard who, along with many others, are implicated in the forced removal of a Federation president. Meanwhile, deep in the distant, unexplored region of space known as the

Odyssean Pass

, Picard and the crew of the Starship Enterprise must put aside personal feelings and political concerns as they investigate a massive mysterious spacecraft. Adrift for centuries in the void, the ship is vital to the survival of an endangered civilization which has spent generations searching for a world to sustain what remains of its people. Complicating matters is a band of marauders who have their own designs on the ancient ship, with only the Enterprise standing in their way...

Star Trek Magazine, Issue 198 (US #71)
May
What We Left Behind

released.
June


July



August


TOS novel: The Antares Maelstrom by Greg Cox.

The final frontier erupts into chaos as vast quantities of a rare energy source are discovered beneath the surface of Baldur-3, a remote planet beyond the outer fringes of Federation space. Now an old-fashioned "gold rush" is underway as a flood of would-be prospectors, from countless worlds and species, races toward the planet to stake their claim. The galactic stampede threatens the stability of neighboring planets and space stations, as widespread strife and sabotage and all-around pandemonium result in a desperate need for Starfleet assistance. Captain James T. Kirk and the crew of the Starship Enterprise are dispatched to deal with the escalating crisis... which lies on the other side of a famously perilous region of space known as the Antares Maelstrom.
September
TOS - Year Five comic: "Issue 6".
October


November
December

External links