The 2020s was, on Earth's calendar, the third decade of the 21st century. Although this was a time period before Human formulation of stardates, this era lasts from stardates 2020.0 through 2029.
Events of various dates
Edit
Events taking place following reference stardate -1/80 into the modern era beginning on stardate 0/00 cannot always logically be corresponded to modern years or canon dates in most cases, so they are listed on those two pages.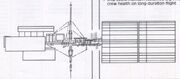 additional notable people 

Bernardo Calvera • Biddle Coleridge • Jadzia Dax • Lloyd Elkins • Grady • Lee • Preston • Sorahl • Sotir • Vin • Webb • Danny Webb • Miroslav "Bobo" Bogdonovich • Terwilliger • Sakahara • Kilkenney • Gilderbaum • Denyabe • Cordoban • Galanti • Marcus O'Herlihy • Alice Fontana • Zoe Querez
Appendices
Edit
References and notes
Edit
↑ DS9 episode: "The Big Goodbye".
↑ This information comes from a baseball card seen throughout Star Trek: Deep Space Nine on Ben Sisko's desk, notably in DS9 episode: "The Storyteller" and "If Wishes Were Horses".
↑ TNG episode: "The High Ground".
External links
Edit
Community content is available under
CC-BY-SA
unless otherwise noted.