For other uses, see 2021.
2021 was, on Earth's calendar, the 22nd year of the 21st century, and the second year of the 2020s decade. Although this was a time period before Human formulation of stardates, this era begins with stardate 2021.0.[1]
Events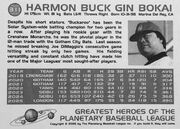 Baseball player Buck Bokai in the

Planetary Baseball League

plays a second and final year for the Gotham City Bats. He had 117 games, 417 times at bat, 71 runs, 132 hits, with 29 doubles, 1 triple, 8 stolen bases and 19 home runs. He was responsible for 91 runs batted in and had a batting average of .317.[2][3]
People
Births and deaths
Notable people
other notable people

Hank Aaron • Buzz Aldrin • Pamela Anderson • Ann-Margret • Margaret Atwood • Drew Barrymore • Barry Bonds • Kenneth Branagh • Naomi Campbell • Charles, Prince of Wales • James Kirk Christopher-Fontana • Joan Collins • Max Allan Collins • Robert Crais • Dax symbiont • Robert De Niro • Cameron Diaz • Athene Donald • Frank Drake • Bob Dylan • Clint Eastwood • Elizabeth II • Shepard Fairey • Vigdís Finnbogadóttir • Heidi Fleiss • Alice Fontana • Bill Gates • Mikhail Gorbachev • Patty Hearst • Lady Gaga • James Lovell • Elle Macpherson • Madonna • John Major • Lee Majors • Junior Mance • Willie Mays • Jennifer McCarthy • Paul McCartney • Larry McMurtry • Walter Mondale • Demi Moore • Elon Musk • Roger Penrose • Derek Redmond • Donald Rumsfeld • Claudia Schiffer • William Shatner • Will Smith • Patrick Stewart • Sharon Stone • Valentina Tereshkova • Frank J. Tipler • Andrew Wiles
Appendices
References and notes
Releases
This article or section refers to licensed content which has not yet been released.
It contains information that may change frequently as the expected release date approaches. For in-universe perspectives, this information may be considered speculation until the source is available.
Dates listed here reflect the official release date of publications; prose publications typically become available in the final weeks of the preceding month, but have no set release date; comics do have specific release days, which normally occur at intervals throughout their release month.
January

PIC novel: The Dark Veil, by James Swallow.

"As I utter the words now, we will conduct this tribunal in Federation Standard, in deference to Captain Riker's presence," continued

Kastis

, "and in the interests of openness with the United Federation of Planets". The

judicator

said the word as if it was sour to her, ashen and alien on her

tongue

. She indicated the three shadowy forms around her. "Tribune

Delos

will observe for Major

Helek

. Tribune

Nadei

will observe for Commander

Medaka

and the Romulan Senate. And our… visiting advocate will observe for the Human captain". Riker shielded his

eyes

, trying to peer past the light from the

glow-globes

to get a good look at the person assigned to him, but it was impossible to pick out anything. The shadow gave him nothing, no face, no hint of gender, only uncertainty. He knew little of Romulan legal practices. Was Riker's silent watcher his lawyer, his judge? Executioner, even? He banished that last notion with a grimace. Will Riker stood foursquare behind his every decision, even after everything that had happened over the last few days. What that would mean here and now in this place, he couldn't know. But there would be no obfuscation from him, no wordplay and clouding of the truth. And once again, something came back to Riker, something Picard had said to him, years earlier on their very first mission together. If we're going to be damned, let's be damned for what we really are.


February


March
April
May

June

July


August
September

October
November

December

DS9 novel: Revenant, by Alex White (Gallery Books).

Jadzia Dax has been a friend to

Etom Prit

, the Trill

Trade Commissioner

, over two lifetimes. When Etom visits Deep Space Nine with the request to rein in his wayward granddaughter

Nemi

, Dax can hardly say no. It seems like an easy assignment: visit a resort casino while on shore leave, and then bring her old friend Nemi home. But upon arrival, Dax finds Nemi has changed over the years in terrifying ways… and the pursuit of the truth will plunge Dax headlong into a century's worth of secrets and lies!
External links