For other uses, see

2022

.
2022 was, on Earth's calendar, the 23rd year of the 21st century, and the third year of the 2020s decade. Although this was a time period before Human formulation of stardates, this era begins with stardate 2022.0.[1]
Events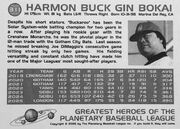 Baseball player Buck Bokai in the

Planetary Baseball League

is traded to the club at

Tanis

from the Gotham City Bats. In that summer season, he had 143 games, 461 times at bat, 80 runs, 155 hits, with 34 doubles, 10 triples, 7 stolen bases and 13 home runs. He was responsible for 80 runs batted in and had a batting average of .336.[2][3]

Henry Garcia

moves to San Francisco to work in a

brewery

, but finds himself unemployed after equipment upgrades, and ends up in Sanctuary District A.[4][5]
People
Births and deaths
Notable people
other notable people

Henry Garcia
Appendices
References and notes
External links