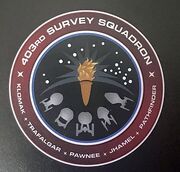 The 403rd Survey Squadron was a 25th century Federation military unit, a survey squadron in Starfleet service in the 2410s decade. The squadron flagship was the USS Pathfinder. (STO Issue 07: "USS Pathfinder")
Service history and disposition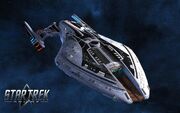 Following the re-activation of the Iconian Gateway Network across the Milky Way Galaxy in 2410, the Pathfinder was requisitioned for Starfleet's new four-quadrant strategy (4QS) of exploration. Starfleet Command hastily assembled survey squadrons. The Pathfinder-class prototype was equipped with a quantum slipstream drive. The Pathfinder and four other ships were assigned to the 403rd Survey Squadron.
As part of the 4QS, the squadron traversed a class IV Iconian gateway and begin surveying adjacent star systems, before transmitting their results back to Starfleet Command. (STO Issue 07: "USS Pathfinder")
Khitomer Alliance flag officer in, or aligned with, Starfleet, deployed Pathfinder for missions around the galaxy's four quadrants. (STO - Klingon War mission: "Welcome to Earth Spacedock", admiralty system)
Assigned vessels
Appendices
Connections
Appearances and references
Appearances
STO Issue 07: "USS Pathfinder"