Ann Carol "A.C." Crispin (April 5, 1950 - September 6, 2013) was a prolific author who wrote several Star Trek related works. She died on September 6, 2013 after a long battle with cancer.[4]
Crispin commented: "I liked Next Generation, and I enjoyed Deep Space Nine, but I wasn't crazy about Voyager, and I actively disliked Enterprise because of the way the Vulcans were portrayed – scheming, lying, emotional...well, those weren't the Vulcans I'd come to know and love!" [5]
Star Trek Bibliography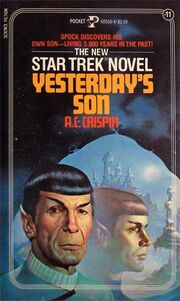 This article is a stub relating to an author, illustrator or other publishing production information. You can help our database by expanding on it.