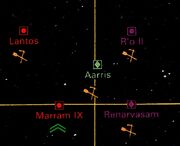 Aarra was a star system located in a region of space know as The Triangle at the edge of the Alpha and Beta Quadrant. It found itself surrounded by the Agiirrat, Sanurna, R'o and Restelam systems.
The system possessed at least one Class M planet, Aarris. (FASA RPG module: The Triangle)
Star System
Edit
Connection
Edit
Community content is available under
CC-BY-SA
unless otherwise noted.