For the mirror universe counterpart, see Acamar III (mirror).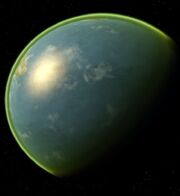 Acamar III was the third planet in the Acamar system. It was the homeworld of the Acamarians and the Gatherers. (TNG episode: "The Vengeance Factor")
In 2224, first contact with the people of Acamar III was made by the Orions, who began strip-mining the planet. (Last Unicorn RPG module: All Our Yesterdays: The Time Travel Sourcebook)
In early 2381, Acamar was attacked and devastated by the Borg. The USS Aventine faced its first combat in its attempt to defend the system, which resulted in the death of her captain and first officer, leaving Ezri Dax in command. (TNG novel: Greater Than the Sum, ST - Destiny novel: Gods of Night)
Community content is available under
CC-BY-SA
unless otherwise noted.