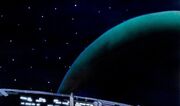 Adarak was a town in Bajor's Kendra Province. It was the site of a public transporter station.
In 2376, Nog beamed down to Adarak and walked to Sisko's house to see Kasidy Yates. Yates would later visit Adarak herself. (DS9 - Mission Gamma novel: Twilight)
Adarak was mentioned in an unfilmed or deleted scene from the DS9 episode: "Penumbra", as the location of Vedek Oram Yentin's monastery.
Appendices
Locations
Adarak Cellars

Nerak Lane
Connections
References
External link