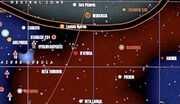 Adelphous (or Adelphus) was a star system, located somewhere in Federation space in the galaxy's Beta Quadrant, near the borders of Klingon territory as well as the Romulan Neutral Zone. (ST references: Star Charts, Stellar Cartography: The Starfleet Reference Library; ST website: StarTrek.com)
The Adelphous system's orbit was the location of a number of worlds, including fourth planet Adelphous IV, the world Adelphus-B, and, by the late 24th century, the Adelphous Array. (TNG episode: "Data's Day"; TNG novels: Balance of Power, Takedown)
Startrek.com spells the name of the fourth planet as "Adelphus IV", giving this system's name its alternate spelling.
In the Federation-Klingon War of 2256-2257, this system was occupied by the Klingons by the year 2257. (DSC episode: "The War Without, The War Within")
Adelphous primary star
Adelphous I
Adelphous II
Adelphous III
Community content is available under
CC-BY-SA
unless otherwise noted.