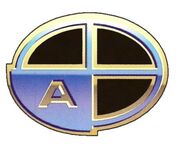 Adhil (also known as Xi Andromedae or 46 Andromedae) is a star system, a binary star in the space of the galaxy's Alpha Quadrant.
History and specifics
This binary was located 196 light years from Earth, visible in the constellation of Andromeda. This system was, by the late 24th century, a holding of the Federation. The Adhil system's orbit was the location of planetary system, including Adhil Prime. (ST video game: Starfleet Command III)
No history or specifics are established for this location in Starfleet Command III, as its name was arbitrarily selected for a Federation system on the game map by the game software, with random attributes.
System makeup
Adhil
Appendices
Connections
Alpha and Beta Quadrant stars and star systems (X)
Xanthii • Xaraka • Xarlun • Xarmuk • Xarnex • Xarnial • Xer • Xerliur • Xerrias • Xerxes • Ximega • Xoja • Xormiur • Xornien • Xorxias • Xumiux • Xuner • Xuniek • Xuram • Xuxiaz • Xuziol
Alpha Quadrant stars and systems (X)
Xi Andromedae • Xi Herculis • Xoxa •

Xyrillia

Beta Quadrant stars and systems (X)
Xarantine • Xhuj • Xi Hydrae • Xol
References
External link