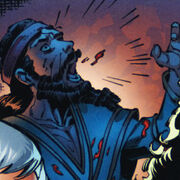 Akharin was a Human man born in the Mesopotamia region on Earth in 3834 BCE.
Biography
[
]
He was a soldier who discovered he was immortal after having his heart pierced, and then immediately healed, during an ancient battle. He lived for at least six thousand years to follow, taking a number of aliases, including Flint. (TOS episode: "Requiem for Methuselah")
During the 12th century BCE, he was in the Egyptian city of Thebes, where he met the master architect and builder Parneb. (TOS novel: Strangers from the Sky)
Strangers from the Sky spells his name as "Ahkarin", but the note that this was the same person as Merlin the Wizard strongly suggests that reference was to this same character.
Appendices
[
]
Connections
[
]
Appearances and references
[
]
External Link
[
]