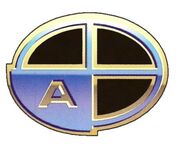 Alcor (also known as 80 Ursae Majoris or g Ursae Majoris) is a star system, a binary star in the space of the galaxy's Alpha Quadrant.
Details
This binary was located about 82 light years from Earth, visible in the constellation of Ursa Major. The Alcor primary is an A class star, type A5IV, with a red dwarf companion. The Alcor system's orbit was the location of planetary system, including fourth planet Alcor IV. By the 23rd century, Federation databanks, including the USS Discovery computer, did not record any Human settlement on that planet. (ST video game: Starfleet Command III; Short Treks episode: "Calypso")
No history or specifics are established for this location in Starfleet Command III gameplay, as its name was arbitrarily selected for a system on the game map by the game software, with random attributes.
System makeup
Alcor

Alcor I
Alcor II
Alcor III

Alcor IV
Appendices
Connections
References
External links