From solicitations: An offbeat one-shot featuring STAR TREK's most unlikely alien race! Welcome to Serjilla IV, an abandoned world completely overrun by Tribbles: friendly, trilling balls of fur that eat constantly and, in the words of Dr. Leonard McCoy, "reproduce at will." When a human freighter, boarded by hostile Klingons, crash-lands on Serjilla, the Tribbles' quiet but lonely existence is shattered. It's a simple situation, really—three desperate humans, a squadron of angry Klingons, and a billion hungry Tribbles. What could possibly go wrong?
This article or section is incomplete
This article is marked as lacking essential detail, and needs attention. Information regarding expansion requirements may be found on the article's talk page. Feel free to edit this page to assist with this expansion.
ReferencesEdit
CharactersEdit
Starships and vehiclesEdit
LocationsEdit
Referenced only 
Races and culturesEdit
Referenced only 
States and organizationsEdit
Other referencesEdit
credit • dilithium • disruptor pistol • disruptor rifle • engine • grain • Ha'DIbaH • hull • millicam • parsec • planet • sensor • sonic grenade • weapon
AppendicesEdit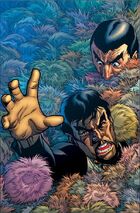 Related storiesEdit
The story takes place in the Star Trek: The Original Series era, with the stardate 1422.3, which places it in the early half of the 2260s.
External linkEdit