This article is about the Last Unicorn RPG reference book. You may be looking for TOS episode: "All Our Yesterdays".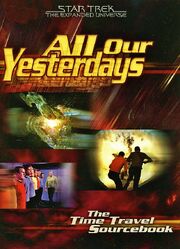 This article is a stub relating to an author, illustrator or other publishing production information. You can help our database by expanding on it.
References
Edit
Characters
Edit
Starships and vehicles
Edit
Earth and Federation
Edit
Wells-class (called Polarity class) timeship 

Epoch-class timeship 

Thucydides-class timeship 

others
Other starships and ship classes
Edit
Locations
Edit
Planets and planetoids
Edit
Agornu • Eridios • Otha • Trilith VII
Races and cultures
Edit
Lifeforms
Edit
States and organizations
Edit
Other references
Edit
Appendices
Edit
Community content is available under
CC-BY-SA
unless otherwise noted.