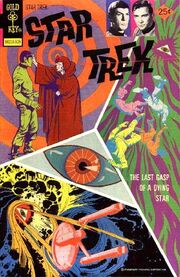 Allan Moniz (1952-) is a comic book writer. He wrote two Star Trek stories for Gold Key's Star Trek: The Original Series comic.
For the 1976 Whitman anthology Starstream he contributed along with fellow Star Trek writers Arnold Drake and George Kashdan and artists Frank Bolle, José Delbo, Alberto Giolitti, Alden McWilliams and Nevio Zeccara in adapting science fiction stories by Isaac Asimov, Robert Bloch, Larry Niven and others.
Community content is available under
CC-BY-SA
unless otherwise noted.