Allanor is an inhabited Class J planet located in the Brinus sector, somewhere in the space of the Alpha or Beta Quadrants of the galaxy, in the Romulan Neutral Zone, bordering Federation and Romulan Star Empire territory.
Description
Edit
Its atmosphere was composed mostly of nitrogen, oxygen and carbon dioxide and no surface water.
The surface of the planet was heavily damaged with high radiation levels, presumably after the civil war following the disappearance of the Unity Device. Below the surface there was an extensive network of caverns with operational computers, including Primus One, and defense mechanisms.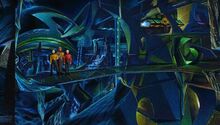 In antiquity, Allanor was the homeworld of the ancient Chodak civilization and the administrative center of the Chodak Empire. The planet presumably suffered during the civil war and the Chodak had ceased to live there by the modern era of the 24th century. However the ancient machinery, like the computers and defense systems remained operational, and emitted a detectable cochrane field. (TNG video games: A Final Unity, Generations)
In 2370 both the Romulans and the modern Chodak attempted to return to the planet in order to find clues about the location of the Unity Device. During the Romulan Incursion of 2370 some Romulans attempted to invade the planet, but such attempts were cut short by the still operational defense systems. The ashes of such a Romulan were to be found near a deactivated Chodak drone.
Admiral Brodnack came on the planet with Optimators One and Two. They were unable to proceed their research because they were lacking a brown isolinear rod to access Primus One. However the planet was also visited by an away team from the USS Enterprise. Brodnack lied to them that they were the remnant of an ancient empire, left there as caretakers of this planet.
There are several branches on this conversation: it is possible for the player to offer to help the Chodak, or proceed alone, or provoke them, in which case the team will be held captives.
Brodnack took the rod and the programmer with him and left with Optimator One on his Chodak Dreadnought to reach the Device. (TNG video game: A Final Unity)
Connections
Edit
Community content is available under
CC-BY-SA
unless otherwise noted.