For other uses, see Alliance.
An alliance was an agreement to cooperate between at least two parties. (ENT episode: "United")
History and specifications
[
edit
|
edit source
]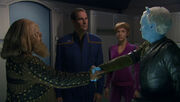 In the year 2154, Romulan attacks on several species in local space prompted Captain Jonathan Archer and Commander Thy'lek Shran to foster an alliance between United Earth, the Andorian Empire, the Confederacy of Vulcan and the United Planets of Tellar. Their governments agreed to pool their resources to form a fleet and capture the Romulan telepresence drone ship. (ENT episode: "United")
In 2155, this alliance was formalized into the Coalition of Planets. (ENT novel: The Good That Men Do)
In 2409, common threats of to the galaxy led to joint missions between the Federation and the Klingon Empire, despite the state of war between them under the Federation-Klingon War of 2405-2410. Influence from the Romulan Republic, allied to both warring powers, and the negotiation by Rear Admiral, lower half Tuvok helped form the Khitomer Alliance and ending the war in 2410. (STO - The Iconian War missions: "Welcome to Earth Spacedock", "Takedown", "A Step Between Stars")
Community content is available under
CC-BY-SA
unless otherwise noted.