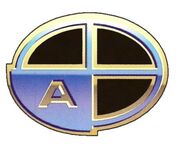 The Alpha Proxima system (also known as the Dnoces or the Iota Ursae Majoris system) is a star system in Federation space.
Alpha Proxima is the location of the planet Alpha Proxima II, a Federation colony, Alpha Proxima III, home to a non-space faring race recovering from a devastating nuclear war, and Alpha Proxima IV, a Federation planet known for both its leisure facilities and its many archaeology museums.
Community content is available under
CC-BY-SA
unless otherwise noted.