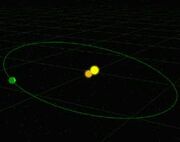 Alphax was a star system, a binary star located somewhere in the space of the galaxy's Alpha or Beta Quadrants.
History and specifics
The Alphax system consists of two stars, Alphax Alpha and Alphax Beta. This binary is orbited by a single gas giant planet, Alphax I, which has several moons.
The system has is described as being "remarkably free" of debris, space dust and remnant gas for a system with only one planet. (TOS video game: Starfleet Academy: Strategic Command)
System makeup
Alphax system binary star (

Alphax Alpha

and

Alphax Beta

)
Appendices
Connections
References