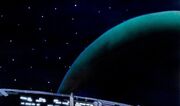 Amantha is a location on Bajor.
Amantha was once the site of an ancient monastery. During the Occupation, the Cardassians burned the monastery to the ground and the Bajorans later used the rubble to build a memorial. Kira Nerys had viewed the memorial prior to 2375. (DS9 - Prophecy and Change short story: "Face Value")
Community content is available under
CC-BY-SA
unless otherwise noted.