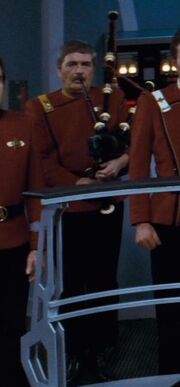 Amazing Grace was a well known hymn that was used for many Christian services on Earth. The instrumental version of the hymn is often used for funerals and memorial services in military and service organizations, including Starfleet.
In late 2265, the instrumental version was piped into the USS Enterprise's chapel at the conclusion of Lieutenant Lee Kelso's memorial service. (TOS - My Brother's Keeper novel: Constitution)
In 2285, the instrumental was played by Commander Montgomery Scott on a set of bagpipes at Captain Spock's funeral aboard the Enterprise. (TOS movie: Star Trek II: The Wrath of Khan)
External links
Edit
Community content is available under
CC-BY-SA
unless otherwise noted.