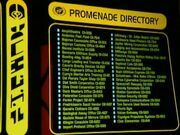 An amphitheatre is a venue for spectator sports, concerts, rallies, or theatrical performances. Typically an amphitheatre is formed with a central stage, and elevated rows of seating encircling it.
The 4,000 colonists on Tarsus IV that Kodos selected to be killed were gathered in the New Anchorage amphitheatre. Kodos and his people murdered the colonists by firing phasers set to disintegrate at the gathered assembly. (DSC novel: Drastic Measures)
V'Ger's brain nucleus resembled an amphitheater. (TOS novelization: The Motion Picture)
On Federation Starbase Deep Space 9, the space station's amphitheatre is located at central core location 01-005. (DS9 reference: Star Trek: Deep Space Nine Companion)
The amphitheatre was listed on the Promenade station directory set piece graphic seen throughout Star Trek: Deep Space Nine. The text of all the locations thereon was reproduced in the Deep Space Nine Companion reference.
Appendices
Connections
External link