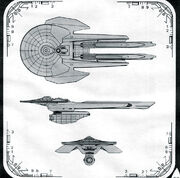 The Andor-class was a type of Federation starship, a cruiser in service to Starfleet in the 23rd century, named for Andor, homeworld of the Andorian peoples. (FASA RPG module: Federation Ship Recognition Manual)
History and specifications
The first class of Federation starships built as a "missile cruiser", the Andor was unique among Starfleet vessels of the time due to its having large broadsides of torpedo tubes rather than phasers as the ship's primary weapon system. Although phasers were included in the design, they were fewer in number and intended as a supplement to the torpedo tubes. The class was built at the strong request of the Andorians, who resented that Starfleet had created science vessels crewed primarily by Vulcans and wished to have a vessel intended for Andorian crews and philosophies.
Almost a century later, the concept of having torpedoes rather than phasers for a starship's main weapon was later revisited by Starfleet engineers in the successful Akira-class heavy cruiser.
Appendices
Connections
Background
Presumably, a ship named USS Andor would be the prototype of this class, although such a vessel has yet to be mentioned. Such a ship would be the successor in the name after the Engle-class USS Andor of the 2250s decade.