For other uses, see Robinson.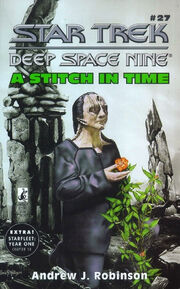 Andrew Jordt Robinson played the recurring character Elim Garak throughout Deep Space Nine. He also directed the DS9 episode "Looking for par'Mach in All the Wrong Places" and the Star Trek: Voyager episodes "Blood Fever" and "Unforgettable". He went on to write the life story of Elim Garak in A Stitch in Time and a further short story in the anthology Prophecy and Change.
Robinson gave an interview to Jeff Ayers for Voyages of Imagination and talks about how "A Stitch in Time" evolved from a journal he kept about Garak during the series and how it was David George who inspired him to turn it into a novel.
Star Trek Bibliography
External links