See Andrew Probert, for the in-universe character.
For other uses, see Probert.
Andrew Probert, sometimes credited as Andy Probert, is an artist who has contributed designs to live-action Star Trek productions and images for Star Trek publications.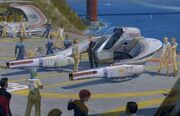 Probert first worked on Star Trek as production illustrator for Star Trek: The Motion Picture, his work included designs for interiors and props, and work on the detailing of miniatures. He later worked as senior consulting illustrator on the first season of Star Trek: The Next Generation, designing the USS Enterprise-D, and various other featured starships, including the D'deridex-class, and D'Kora-class. His work also extended to interior sets for the Enterprise, and various other sets and props. His trademark "horseshoe crab" design can be seen throughout TNG; on the wooden railing for the Enterprise-D bridge, the arc of the Ferengi Marauder, the wings of the fighter PT-009, and the head of the mother alien from episode "Conspiracy".
Probert has also contributed images to the Ships of the Line calendars, the first of which was also reprinted in the Ships of the Line book.
Bibliography
Appendices
External links