For other uses, see Andromeda.
The Andromeda-class was a type of exploration cruiser fielded by the Federation Starfleet beginning in 2410. It was an advanced variant of the venerable Galaxy-class of the mid-24th century. (STO video game: Delta Rising)
With the Andromeda-class the Starfleet Corps of Engineers meant to duplicate the success of the earlier Pathfinder-class update to the Intrepid-class hull plan. Designed and built at Utopia Planitia Fleet Yards, the Andromeda-class featured improved capabilities over even retrofitted Galaxy-class vessels.
The systems updates developed for the Andromeda-class were later reused in the Yamato-class dreadnought cruiser, a variant of the Galaxy X-class. (STO video game: Delta Rising)
Technical data
Edit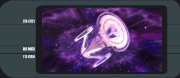 In addition to standard Starfleet weapons and defenses, the Andromeda-class equipped a molecular cohesion nullifier field, a device that disrupted the molecular bonds in surrounding matter, increasing the effectiveness of the cruiser's weapons. (STO video game: Delta Rising)
Known vessels
Edit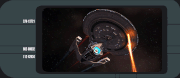 Appendices
Edit
Connections
Edit
External links
Edit