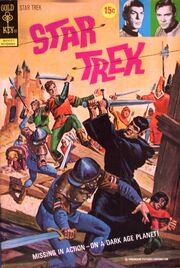 Angelo Todaro (1945-) is a comic book artist. He assisted Alberto Giolitti with Gold Key's Star Trek: The Original Series comic.
Giolitti brought in Todaro to assist him in illustrating Star Trek. As reference aids, Todaro assembled an AMT model kit of the Enterprise. In his autobiography, Todaro also described modeling the command section of the bridge based on photo references. He said he penciled "Day of the Inquisitors" and did pencils and inks for "A Bomb in Time".
Todaro created illustrations for an Italian edition of Moby Dick. He wrote an historical novel set during the Roman era of Hannibal, a setting which would later be featured in "No Time Like the Past".
Star Trek Bibliography
[
]
External links
[
]