---
Spoiler warning:
Plot and/or ending details follow: The following content contains spoilers!
---
MAJOR SPOILERS
WARNING! This article contains MAJOR spoilers for the recently released episode Die Trying. Caution is advised.
The Angelou class[1] was a 31st century[2] Federation starship class, a circular ship[3] in Starfleet service since before the Burn. (DSC episode: "People of Earth")
History and specifications
[
]
The hull of this ship class consisted of a wide, segmented saucer section with a cylinder-shaped negative space running vertically through its center. Horizontally, the middle section was recessed compared to the larger diameter of the upper and lower sections. (DSC episode: "People of Earth")
A wide, angular shuttlebay was attached to the hull for access. It's interior included water and dense vegetation arranged in a forest or rainforest. That landscape was visible from above the ship. At the time, some Starfleet hulls consisted of holographic containment walls. (DSC episode: "Die Trying")
Inside, a walkway-bridge led from the docking port to the edge of the inner ring. (DSC episode: "That Hope Is You, Part 2", promo image)
The circular design differed from the other ringship active in the era, the Saturn-class starship, which consisted of a slender ring with a massive central negative space. (DSC episode: "People of Earth")
Ships of this class were in service by the 3060s decade.
Circa 3069[4] at least two Angelou-class ships operated in the sensor range of the unnamed Federation relay station when the Burn occurred and destroyed all starships with an active warp core across the galaxy by destabilizing their dilithium. When the ships' dilithium crystals went inert, matter/antimatter containment failed, and the vessels detonated instantaneously.
In the year 3188, acting communications chief Aditya Sahil shared his station's sensor logs with Commander Michael Burnham. These included graphics of the Starfleet ship locations and a visualization of their destruction when the Burn was triggered. Burnham reported these findings in a transmission to her ship, the time-displaced USS Discovery on stardate 865211.3. (DSC episode: "People of Earth")

At least two ships of this class were still in service in the 32nd century. In the 3180s decade, the USS Maathai and its sister craft operated inside the distortion field surrounding the Federation Headquarters space station.
In 3189, Ensign Sylvia Tilly of the Discovery identified it as "a flying rainforest" upon gazing the Maathai on the viewscreen. The dorsal hull consisted of holographic projections. Its interior was filled with a forest. (DSC episode: "Die Trying")
Known vessels
[
]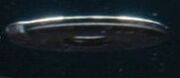 Appendices
[
]
Connections
[
]
References
[
]