Antica IV is a location somewhere in the space of the galaxy's Alpha or Beta Quadrants, a colony or outpost of the planet Antica.
History and specifics
[
]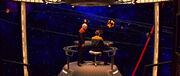 Antica IV appeared on a star chart hologram that Data and Picard were studying in stellar cartography in the year 2371. (TNG movie: Generations)
Since areas of the star chart included many other TNG season 1 references, such as Beta Renna, it seems likely this was intended to be a reference to the Antican race, and possibly to their homeworld of Antica.
Appendices
[
]
Connections
[
]
References
[
]
External link
[
]