For other uses, see Arcturus.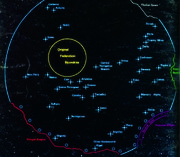 Arcturus (also known as Alpha Boötis or Hokule'a) was a star with a system in Federation space. It was the location of the planet Arcturus IV, homeworld of the Arcturians. (ST reference: Star Charts; FASA RPG module: The Federation; TOS novel: Enterprise: The First Adventure)
History and specifics
As an unaligned area in the year 2265, Arcturus was the home of the Merchant's Guild, a criminal organization akin to the Orion Syndicate. (SCE - What's Past eBook: Distant Early Warning)
Quark and McHogue were banned from the Arcturus system for their involvement in a corporation that sold stock certificates to species from nondeveloped planets. (DS9 novel: Warped)
In TNG video game: Birth of the Federation, the orbital configuration of the game map star systems was randomly generated each time a new game started. Neither was any history or specifics are established for this location in Starfleet Command III, as its name was arbitrarily selected for a Federation system on the game map by the game software, with random attributes.
Astronomical data
Arcturus is a class K orange star with a magnitude of -1.
System makeup
Arcturus primary star
Appendices
Connections
References
External links