For other uses, see Argo.
Argo was a Class O planet, the only planet in orbit of the star UFC 78856 and the home of the Aquan civilization who call the planet Hestalor. (ST references: The Worlds of the Federation, Star Charts)
The Worlds of the Federation identifies Argo as a class N world; however, under the more recent planetary classifications of Star Charts, that would make Argo a Venus-like world.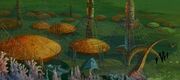 The Aquans once lived on the land masses of Argo, however due to the planet's high levels of seismic activity much of the land sunk leaving just a few islands. To preserve their species the Aquans genetically modified themselves to be able to live in the new underwater environment of their planet. Other life on Argo includes algae and the poisonous Duitra, or sur-snake. (ST reference: The Worlds of the Federation; TAS episode: "The Ambergris Element")
In 2270 the USS Enterprise visited Argo to study its seismic activity in the hope of benefitting other worlds who faced similar effects. After learning how to redirect the seismic disruptions, some of the land which had previously been under water returned to the surface. This land included an ancient city of the air-breathing ancestors of the Aquans. (TAS episode: "The Ambergris Element")
Community content is available under
CC-BY-SA
unless otherwise noted.