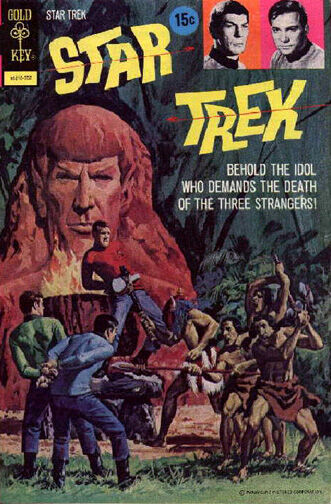 Arnold Drake (March 1, 1924-March 12, 2007) was a comic book author. He wrote 22 stories for Gold Key's Star Trek: The Original Series comic, the most of any author on that series.
Drake co-created DC Comics' Deadman and Doom Patrol, a series later rebooted by John Byrne. Drake and fellow Star Trek writers Gerry Boudreau and John Warner wrote many issues of the Dark Shadows series. Drake wrote the first feature-length story illustrated by Neal Adams. During Drake's run on Grimm's Ghost Stories, Frank Bolle and José Delbo contributed. For the 1976 Whitman anthology Starstream he contributed along with writers George Kashdan and Allan Moniz and artists Bolle, Delbo, Alberto Giolitti, Alden McWilliams and Nevio Zeccara in adapting science fiction stories by Isaac Asimov,
, Larry Niven and others.
Star Trek Bibliography
External links