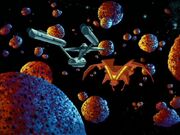 An
asteroid belt
is a field of
asteroids
, small celestial bodies, usually of metallic composition, which form an elliptical pattern in
orbit
around a
star
. An asteroid belt may be formed either when, during the origin of a
star system
, interstellar matter fails to coalesce into a
planet
, or else a planet for some reason breaks apart into smaller bodies.
An asteroid belt circles Sol between the orbits of Mars and Jupiter. Circa 2179, the USS Benjamin Franklin defeated a fleet of pirate vessels in Sol's asteroid belt, in what was known as as the Battle of the Belt. (TNG novel: The Haunted Starship)
Systems with asteroid belts
Edit
Other asteroid belts
Edit
Appendices
Edit
Connections
Edit
External links
Edit
Community content is available under
CC-BY-SA
unless otherwise noted.