An Atlantic bottlenose dolphin, or Tursiops truncatus, was a cetacean mammal native to the oceans of planet Earth.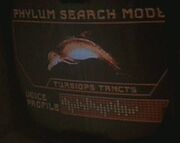 An image of a Tursiops truncatus appeared on a display within the HMS Bounty when Spock searched for a match for the sounds of the Cetacean Probe amongst Earth's animals. (TOS movie: Star Trek IV: The Voyage Home)
In the late 24th century, Atlantic bottlenose dolphins were part of the crew of Federation Galaxy-class starships. They were guidance and navigation specialists working in cetacean ops and the cetacean navigation labs, and were part of a consultation crew of twelve, which included Pacific bottlenose dolphins. (TNG references: Star Trek: The Next Generation Technical Manual, Star Trek: The Next Generation USS Enterprise NCC-1701-D Blueprints)
Community content is available under
CC-BY-SA
unless otherwise noted.