This article is a Star Trek Online related article, and it may be necessary to provide additional citation before individual users can add STO data without discussion or removal of the information. You can help our database by discussing this policy.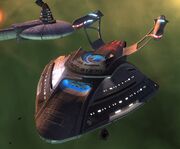 The Aurora class was a Federation starship class, a tier 2 science vessel type in service in the 25th century. The Aurora was derived from the 2370s Nova-class design. Due to their modular nature, components such as saucer, hull, warp nacelles and nacelle pylons were interchangeable between the Aurora and its sister classes. The ship class was also in use by the Terran Empire in the mirror universe. In 2409, Federation Starfleet gained access to some of these counterparts through the Lobi Crystal Consortium. (STO - The Klingon War mission: "Welcome to Earth Spacedock")
In the 25th century, the design of the Aurora-class science vessel allowed its commanding officer to choose from different designs of livery, which could be modified further at starbases. The basic options were designated Type 1-5 and Veteran. (STO - The Klingon War mission: "Welcome to Earth Spacedock")
Furthermore, the installation of deflector shields from specific factions modified the hull appearance, including shields from the Reman Resistance, the Breen Confederacy and the Dominion. (STO missions: "Coliseum", "Cold Storage", "Boldly They Rode")
Community content is available under
CC-BY-SA
unless otherwise noted.