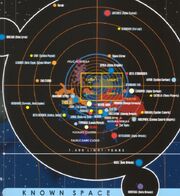 Avior (also known as Yagra, Epsilon Carinae or 89 Carinae) is a star system, a binary star in the space of the galaxy's Beta Quadrant.
History and specifics
This binary was located 630 light years from Earth, visible in the constellation of Carina. This system was, by the late 24th century, a holding of the Romulan Star Empire. The Avior system's orbit was the location of planetary system, including eighth planet Avior VIII. (ST reference: Star Charts; ST video game: Starfleet Command III)
No history or specifics are established for this location in Starfleet Command III, as its name was arbitrarily selected for a Romulan system on the game map by the game software, with random attributes.
Yagra IV was located in the Epsilon Carinae system. (TOS novel: Enemy Unseen)
System makeup
Avior system binary star
Avior I
Avior II
Avior III

Yagra IV

Avior V
Avior VI
Avior VII
Appendices
Connections
Stars, systems and objects of the Carina constellation
7 Carinae (Alpha Carinae, Canopus) • 89 Carinae (Avior, Epsilon Carinae) • 123 Carinae (Beta Carinae, Miaplacidus) • 127 Carinae (Iota Carinae, Scutulum) • Alpha Carinae (7 Carinae, Canopus) • Avior (89 Carinae, Epsilon Carinae) • Beta Carinae (123 Carinae, Miaplacidus) • Canopus (7 Carinae, Alpha Carinae) • Carina Arm •

Carinae system

•

Eta Carinae Nebula

• Epsilon Carinae (89 Carinae, Avior) • Iota Carinae (127 Carinae, Scutulum) • Miaplacidus (123 Carinae, Beta Carinae) • Scutulum (127 Carinae, Iota Carinae)
External link