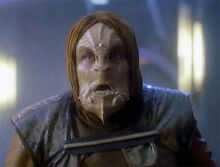 The B'kaazi (also known as Markalians) are a humanoid species from the galaxy's Alpha or Beta Quadrant.
History and specifics
Some members of the species have been known to operate in illegal activities, such as smuggling and robbery. (DS9 episode & novelization: Emissary, DS9 episode: "The Passenger")
The Dominion was interested in the race, as evidenced by a member of the species being held by them in Internment Camp 371. (DS9 episodes: "In Purgatory's Shadow", "By Inferno's Light")
J.M. Dillard named the race "B'kaazi" in her novelization of "Emissary". The name was also used in the novel Betrayal. The association of aliens with this appearance being "Markalian" was derived from the canon dialogue reference to aliens of this likeness being associates of Markalian criminals. The CCG for those characters equates the species designation with those characters themselves.
People
Asoth

Durg

Madrat

Regana Tosh
Appendices
External link