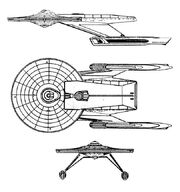 The Baker-class was a type of destroyer in Starfleet service in the 23rd century. (FASA RPG module: Ship Recognition Manual: The Federation).
USS Baker • USS Cooper (NCC-4791) •USS Mako (NCC 3303)• USS Knutson • USS Mirfak (NCC-4823) • USS Peterson • USS Richardson • USS Stafford • USS Silverion (NCC-4752) • USS Taylor
Community content is available under
CC-BY-SA
unless otherwise noted.