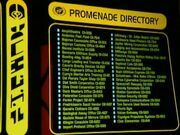 The Banzai Institute was an institution known in the Federation in the 24th century.
The Banzai Institute is known as the publication source of periodical literature including the Journal of Banzai Institute for Advanced Studies. (TNG episode: "Redemption")
The Banzai Institute had an establishment on the Promenade of Starbase Deep Space 9, located at space station central core room location 01-088. (DS9 reference: Star Trek: Deep Space Nine Companion)
Community content is available under
CC-BY-SA
unless otherwise noted.