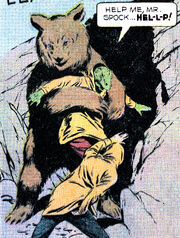 A
bear
was a type of
animal
native to
Earth
and
Jodarr
. They grew to be at least eight feet tall and were
mammals
.
Bears were known to inhabit the wilderness areas of Washington. Biddy Cloom worried that Candy Pruitt and Jeremy Bolt could have been eaten by a bear. (TOS novel: Ishmael)
Joaquin Weiss wore a large brass belt buckle shaped like the head of a snarling grizzly bear, inside of which was hidden a knife. (TOS novel: The Rise and Fall of Khan Noonien Singh, Volume 2)
In 2268, on the planet Jodarr, while searching for his missing spacecraft along a mountain pass, Vrunon was grabbed by a bear. Spock was able to scare it into releasing him. The bear's cave held evidence that led them to discover the spaceship within a volcanic lake. (TOS comic: "Spore of the Devil")
External links
Edit
Community content is available under
CC-BY-SA
unless otherwise noted.