Bellatrix, or Gamma Orionis, was a star with an associated system located in the Bellatrix sector of the Gamma Orionis sector block, in the Beta Quadrant in Federation space. (STO video game: Star Trek Online, ST reference: Star Charts)
Location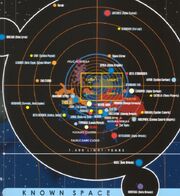 Bellatrix consisted of only a single B class blue star, which had a brightness of magnitude −3. (ST reference: Star Trek Maps, ST reference: Star Charts)
Bellatrix, along with Kessik and FGC-82659, was one of three points in space that defined the boundaries of the Delta Triangle. (SCE eBook: Where Time Stands Still, ST reference: Star Charts)
Details
The Federation starship USS Bellatrix was named for this location. (ST reference: Star Fleet Technical Manual)
There was an Orion settlement on Bellatrix V. (VOY video game: Elite Force)
The Bellatrix system was not a member of the Federation. (ST reference: Star Charts)
Planets
Appendices
Background
Some information about the real-life characteristics of Gamma Orionis are derived from modern astronomy, as described on the Wikipedia page for this topic. It has the stellar classification B2III, and is visible from Earth in the constellation of Orion, 240 light-years distant.
No history or specifics are established for this location in Starfleet Command III, as its name was arbitrarily selected for a Federation system on the game map by the game software, with random attributes.
In VOY episode: "Relativity", Kathryn Janeway identifies "Bellatrix" as an Arabic name, although the word is actually Latin.
Appendices
Connections
Alpha and Beta Quadrant stars and star systems (G)
Gakora • Galagos • Galar • Galina • Galiul • Gallonik • Gallos • Galon • Galox • Galway • Gamma 400 • Gamma 7A • Gamma Alpha • Gamma Amar • Gamma Argus • Gamma Arietis • Gamma Caius • Gamma Chrysalis • Gamma Delta • Gamma Demetrius • Gamma Emerata •

Gamma Hromi

• Gamma Kestra • Gamma Llongo • Gamma Meridien • Gamma Omicron • Gamma Tarses • Gamma Trianguli • Gamma Trixis • Gamma Vertis • Gamma Xaridian • Gamma Ysalis • Ganarra • Ganiel • Ganidra • Ganiez • Garis • Garlath • Garr • Garriat • Gaspar • Gasiox • Gazior • Gealan • Gekiax • Gelok • Gelrak • Gemet • Gemon • Genovese's Star • Gentariat • Geres • Geries • Gesium • Gesok • Geziul • Gezon • Ghandi • Ghar • Ghomba • Ghondr • Gila • Giriel • Gixiak • Gobi • Golgotha • Goliardh • Golumbin 699 • Gombara • Gonal • Gorak • Gorla • Gorsach • Gowok • Gradientes • Graf • Grenfil • Greshik Tyrr • Gribbin • Grisellan • Griswald 3489 • Guldammur • Gunarp
Alpha Quadrant stars and systems (G)
Galador • Gallina • Gamma Andromedae • Gamma Aquarii • Gamma Aurigae • Gamma Capricorni • Gamma Coronae Borealis • Gamma Cygni • Gamma Draconis • Gamma Lyrai • Gamma Ophiuchi • Gamma Persei • Geilod • Gemma • Gemulon • Gentara • Goralis • Gotanna • Great Pulsar • Grevven • Grovran • Gulvaria
Beta Quadrant stars and systems (G)
Gacrux • Gains • Galorndon Core • Galdonterre • Gamma Crateris • Gamma Crucis • Gamma Eridani • Gamma Eridon • Gamma Geminorum • Gamma Hydra • Gamma Leporis • Gamma Mensae • Gamma Orionis • Gamma Pavonis • Gamma Scorpii • Gamma Tucanae • Gamma Xertia • Gamma Zeta 4 • Ganalda • Garadius • Garag • Gasko • Gateway • Gideon • Glintara • Gomeisa • Goran • Gorath • Gorn • Gornar • Gotara • Gr'oth
References
External links