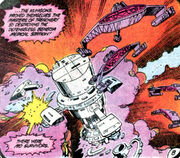 For other uses, see Benecia.
Benecia Medical Station was a Federation medical facility in operation during the 23rd century, a space station located at the planet Benecia.
In 2285, the Benecia Medical Station was destroyed by four Klingon battle cruisers during the Klingon-Federation War of 2285. The station was defenseless, and there were no survivors. (TOS comic: "Errand of War!")
Community content is available under
CC-BY-SA
unless otherwise noted.