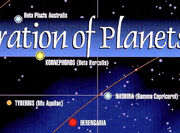 Berengaria was a star system, a binary star located in the space of the galaxy's Alpha Quadrant. This binary consists of two red giants and is orbited by thirteen planets, the seventh of which was Berengaria VII. (ST references: The Worlds of the Federation, Star Charts)
Planetary system
Edit
The seventh and eighth planets in the Berengaria System are habitable, while the eleven others are actually large asteroids with no atmosphere. No other planet in the system has any natural satellites-besides the three
moons
of Berengaria VII. The
system
is located near core Federation planets, such as
Vulcan
,
Andor
, and
Alpha Centauri
. It was first explored by a
Vulcan
survey team in the early
2100s
.

In 2373, Kai Winn Adami asked Captain Benjamin Sisko rhetorically whether the Federation would sacrifice Berengaria to protect Bajor from the Dominion. (DS9 episode: "In the Cards")
Appendices
Edit
Connections
Edit
External links
Edit
Community content is available under
CC-BY-SA
unless otherwise noted.