Best of Alternate Universes is a Star Trek: The Original Series comic book omnibus published by IDW Publishing in 2009. The book reprints eight issues of DC Comics' first TOS comic series comprising the New Frontiers story line, set directly after Star Trek III: The Search for Spock and featuring the mirror universe.
Publisher's description
From solicitations

The treacherous but intriguing tales of Star Trek's Mirror Universe are presented in this collection of the 8-part Mirror Universe Saga! It will take all the guile and cunning Kirk, Spock and the crew of the Enterprise can muster if they hope to ward off the coming Empire invasion, and save themselves in the process!
Contents
Appendices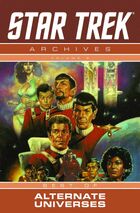 This collection reprints the same material, the miniseries New Frontiers, previously released by DC Comics as The Mirror Universe Saga. The cover art for that previous omnibus was also used for this release in early solicitations.
Connections
Timeline
External link